Have you ever wondered what the net worth of Floyd Mayweather is? If you are a fan of sports, then the odds are you have heard of him.
As one of the wealthiest boxers of all time, Floyd has certainly built a resume for himself. Over his career, he has gone completely undefeated in 50 professional exhibitions. 
As of May 2023, Floyd Mayweather now has a net worth of $450 million with his insane talent.
This post will show you how Mayweather has become so successful and what you can take away from his journey.
Table of Contents
Early Life
Floyd Mayweather Jr. was born on February 24, 1977, in Grand Rapids, Michigan. From an early age, boxing was deeply embedded in his family's roots.
His father, Floyd Mayweather, Sr, was also a professional boxer, most notably fighting Hall of Famer, Sugar Ray Leonard.
His uncles, Jeff and Roger Mayweather were also professional boxers who frequently trained with Floyd.
Unfortunately, drug abuse, shootings, and crime were all too common in the Mayweather household. As a kid, Floyd's mother was addicted to heroin, and his father frequently moved in and out of jail.
While he was largely absent in Floyd's early childhood, he began spending more time with his son as soon as he was old enough to start training at a boxing gym.
At the age of 8, Floyd's father was arrested for selling drugs.
He moved to the Hiram Square neighborhood of New Brunswick, New Jersey, where his mother had relatives.
During this time, Floyd recalls living with seven people in a one-bedroom apartment. Heat, light, and water were at times amenities he and his family could not afford.
After his father had been incarcerated for the third time and his mother was still addicted to drugs, Floyd had to raise himself essentially.
At just 16, he recalls struggling to provide for himself by working any job he could.
More so than anything, Floyd channeled this pain to help motivate his boxing training and dedication.
Amateur Boxing Career
Because of Floyd's early exposure to the world of boxing, his skills and boxing IQ were quickly reflected in his matches.
During his entire amateur boxing career, Floyd Mayweather maintained an excellent record of 84-8. He won national Golden Gloves championships in 1993, 1994, and 1996.
In 1996, Floyd also competed in the Atlanta Olympics, where he was notoriously robbed of a gold medal.
After dominating his prior 4 opponents, his last fight would be the most difficult and controversial. He faced the soon-to-be silver medalist, Serafim Todorov, where the judges controversially scored the match.
After losing his final match, Mayweather received the bronze medal.
Frustrated with the outcome, Mayweather turned his attention to the professional world of boxing, where he would make his debut later that year.
Professional Boxing Career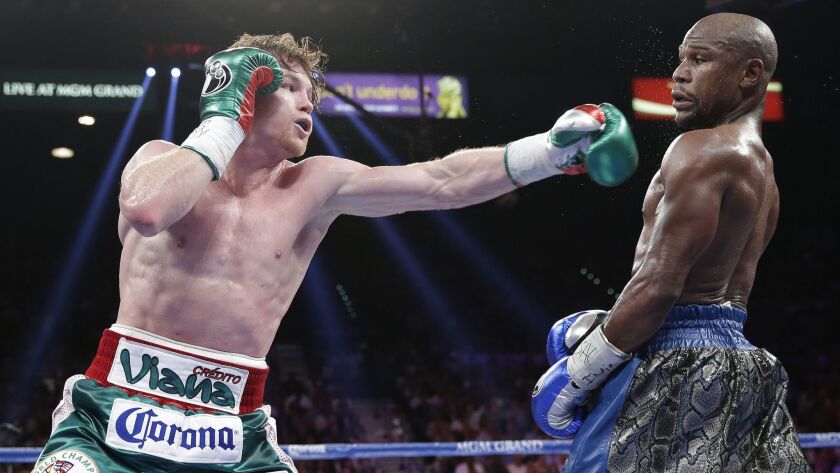 Mayweather competed professionally from 1996-2017, ending his career with fifty wins and zero losses.
Floyd's first professional fight occurred on October 11, 1996. In this fight, Floyd competed in the super featherweight division.
His opponent, Roberto Apodaca, was knocked out in the second round.
At the time, this absolutely shook the boxing world. High expectations were starting to build for young Mayweather.
By the end of his third year, the 22-year-old Mayweather was ranked as The Ring's #2 pound-for-pound best boxer in the world (just behind Roy Jones Jr.).
Throughout his career, Mayweather also competed in the lightweight, light welterweight, welterweight, and light middleweight divisions.
Many of these matches came with incredibly lucrative earnings for Floyd. His top five highest-grossing matches were as follows:
Conor Mcgregor – August 27, 2017 – $300 million
Manny Pacquiao – May 2, 2015 – $250 million
Saul "Canelo" Alvarez – September 14, 2013 – $70 million
Robert Guerrero – May 4, 2013 – $50 million
Miguel Cotto – May 5, 2012 – $45 million
Mayweather has retired three times from boxing throughout his career.
His first public retirement was announced in 2007 after his fight with Oscar De La Hoya. His third and final time he would come out of retirement would be in 2017 to fight Conor Mcgregor.
He won this bout via TKO in the 10th round setting the record for the longest active unbeaten streak in a professional career at 50–0.
He has since fought in some exhibition bouts, most notably against undefeated kickboxer Tenshin Nasukawa and famous Youtuber Logan Paul.
Floyd Mayweather Net Worth 2023
As of May 2023, Floyd Mayweather has a net worth of $450 million. His total career earnings at the time of writing this post are a staggering $1.1 billion.
This makes him one of the top five highest-paid athletes. Furthermore, it also solidifies him as one of the only four athletes to break a billion in career earnings.
Nonetheless, it's easy to see why he takes on the name, Floyd "Money" Mayweather.
Outside of his earnings, Floyd keeps a lot of his wealth in real estate, private jets, and in his car and jewelry collection.
Floyd's primary residence since 2018 is an 11-bedroom custom-built mansion in Las Vegas. He bought the house for $10 million.
Mayweather also owns the Las Vegas-based Mayweather Boxing Club where he works with and trains the boxing stars of the future.
Floyd owns dozens of luxury cars. He once said, in an ESPN interview, that he has $15 million worth of luxury cars that he has never driven.
While Floyd has certainly come a long way from his poverty-stricken roots, the boxer never forgets where he came from.
On a yearly basis, Floyd gives back to poverty-stricken communities in the form of food, clothing, gifts, and donations.
Frequently Asked Questions (FAQs)
How many KO does Floyd Mayweather have?
Floyd Mayweather has 27 KOs.
Is Mayweather still undefeated?
Floyd Mayweather's fabulous unbeaten 50-0 record hides the fact that there is one match many people strongly believe he lost, a contest held 20 years ago that HBO's live crew all scored for Jose Luis Castillo, his opponent on the night.
How many cars does Mayweather own?
"I have about 100 cars," Mayweather said in an Instagram post, showing off a garage with 16 cars and his five Rolls-Royces.
Key Takeaways
Now that you know what the net worth of Floyd Mayweather is, let's take a look at the most important lessons we can take from his journey.
Success Is Built Through Struggle
Floyd Mayweather had an incredibly rough childhood for the majority of his early life.
This struggle and pain fueled his motivation to want to succeed, working endlessly until his family would never have to stress about money again.
Similarly, we can also change our perspective of any struggles or hurdles we face in life. This sets us up to draw energy and conviction from them, rather than lose it
Obsession Leads to Perfection
From an early age, Floyd and his father were obsessed with perfection in the ring.
This meant spending 10 hours a day at the gym, running several miles in the morning, and doing just about everything else that makes a world champion.
The more time we spend practicing and perfecting our craft, the more naturally the skill will come to us. Obsess over your passions until you achieve perfection.
Remember Your Roots
Despite now being a multi-millionaire, Mayweather has never failed to remember his roots. This can also be beneficial for us to practice as this humbleness keeps us grounded in reality.
When we start to taste the fruits of our labor, it's very important to keep a level head so we can continue to push and grow productively.