Have you ever wondered what the net worth of Charles Barkley was? Well, the NBA Hall of Famer and analyst of Inside the NBA has earned a vast sum of money.
Charles Barkley initially gained recognition for his talent on the basketball court and unique personality when he entered the league in 1984 and had a great basketball career.
Since then, Barkley has been one of the more famous basketball faces in the world.
As of May 2023, Charles Barkley has a net worth of $50 million.
In this post, we'll dive into how he achieved his success.
Table of Contents
Early Life 
Barkley was born February 20th, 1963, in Leeds, Alabama, just 10 miles from Birmingham.
He grew up in a very segregated time and was the first black baby born in his town and one of the first to attend his elementary school.
Barkley faced a lot of adversity as a child. His father abandoned him and his younger brother Darryl, leaving his mother, Charley Glenn, to care for them.
His mother remarried and had a son Glenn and hoped to have another, but the baby died in infancy.
At the age of 11, Barkley's Stepfather was killed in a tragic accident, once again leaving him without a father figure.
Despite a rough upcoming, he was able to find solace in the game of basketball. Barkley attended Leeds High School and, as a Junior, actually did not make his varsity team.
Luckily, Barkley hit a growth spurt during the following summer and grew to be 6 ft 4 inches.
His senior year, he was dominant, averaging 19.1 points per game alongside 17.9 rebounds, leading his team to the state semi-finals.
Despite this, Barkley was not heavily recruited out of high school but he was fortunate enough to earn one offer from Auburn University.
There, he would attend, study business management, and play on the basketball team for three years.
Philadelphia 76ers
Source: Basketball Net Worth
The Philadelphia 76ers drafted Barkley 5th in the 1984 NBA draft, two slots after the Chicago Bulls selected the Legendary Michael Jordan, and this would be the start of his career as a professional basketball player.
Barkley joined a veteran team that had just come off a trip to the NBA finals—led by Julius Erving and Moses Malone, two of the league's best players.
This allowed Barkley to have outstanding mentorship and the older teammates kept him in check and ensured he was the best professional he could be.
In his rookie year, he averaged 14 points and 8.6 rebounds a game and was named NBA all-rookie
Barkley took a big step in his progression in his second year, becoming the team-leading rebounder and 2nd leading scorer, averaging 20 points and 12.8 rebounds per game.
This earned him the starting power forward position. He led the Sixers to the playoffs averaging 25 points per game with 15.8 rebounds.
Still, their playoff run was ultimately ended by the Milwaukee Bucks, led by prolific scorer Sydney Moncrief, beating the sizers 4-3 in the Eastern Conference Semifinals.
The Sixers saw great promise in Barkley, causing them to trade Moses Malone to the Washington Bullets in 1986, clearing up space in the frontcourt.
This would make Barkley the sixers' franchise player
He took full advantage of this and earned his first All-Star selection, and was the NBA rebounding leader, as he averaged 14.6 rebounds alongside 23 points per game.
Barkley would continue to thrive in Philadelphia, becoming a crowd favorite and one of the best players in the game.
He spent eight years with the organization, six of which he was an All-star, and five of which he was named to the All-NBA Team.
Charles Barkley earned $9.2 million for his time spent in Philly and became a household name. 
Phoenix Suns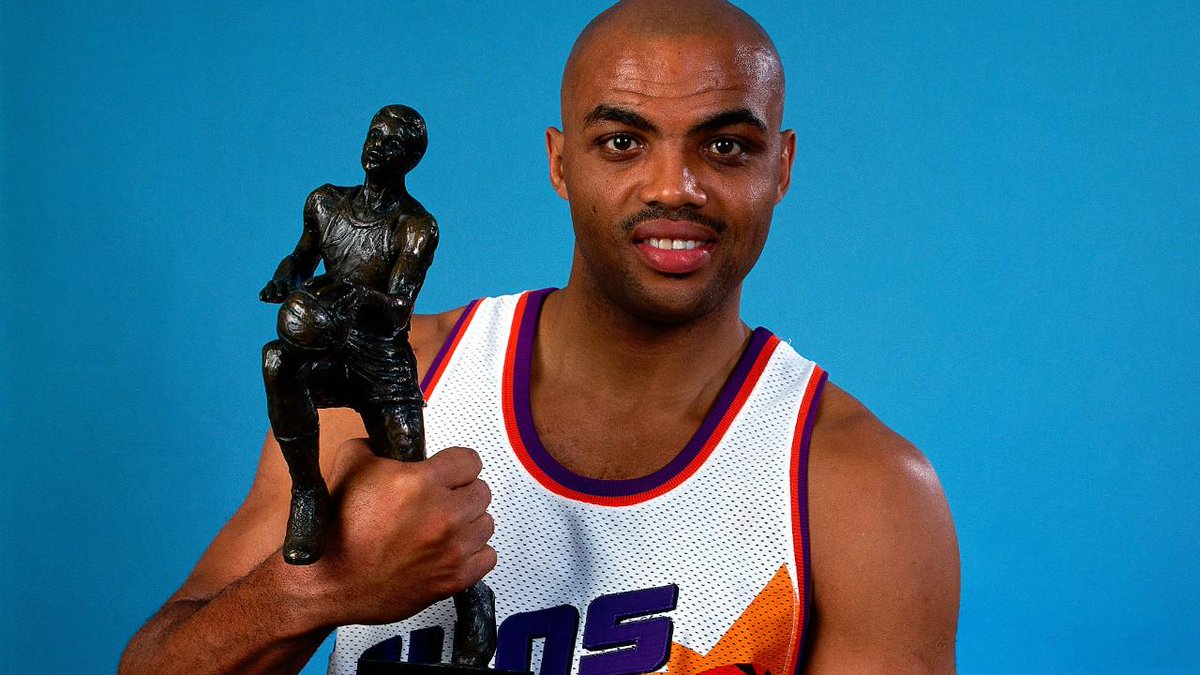 Barkley was traded to Phoenix in 1992 giving him a fresh start in a new city with hopes of winning a championship.
Prior to the season, Barkley was a part of what many call the greatest basketball team ever assembled, the 1992 NBA dream team. Barkley played alongside the likes of Michael Jordan, Magic Johnson, Scottie Pippen, and Larry Bird.
It was a dominant squad and the team won the Olympic gold medal.
Barkley kept the great play into the season and had an immediate impact averaging a career-high 25 points per game, leading the suns to a league-best 62-20- record and winning the Most Valuable Player award for the season.
The suns were one of the more entertaining NBA teams to watch with an up-tempo style of play coupled with the vibrant character of Barkley.
The city was thriving, and the Suns reached the NBA finals and played against Michael Jordan and the Chicago Bulls.
Barkley averaged 27.3 points per game and 13 rebounds. He also recorded a triple-double in Game 4, collecting 32 points, 12 rebounds, and 10 assists.
However, they would ultimately lose the series 4-2.
The 1992-93 season was Barkley's best as a Sun.
Unfortunately, in the 1993-94 season, he started to develop severe back pains, which would be the start of many injuries for the star player.
Barkley, being incredibly talented, was still able to put up 21.6 points and 11.2 rebounds a game while being hurt.
He was named an all-star for the eighth consecutive time but would lose in the Western Conference Finals to eventual champions, the Houston Rockets.
Barkley spent four seasons with the Suns, his last in 1995-1996. He earned his tenth all-star appearance as the lead vote-getter among Western Conference players.
Barkley also achieved an elite milestone, becoming the tenth player in NBA history to reach 20,000 points and 10,000 rebounds in their career.
Despite his success, the team struggled, with just a 41-41 record, and lost to the San Antonio Spurs in the first round in four games.
Barkley's body was progressively getting worse, and the team decided to part ways. Barkley earned nearly 15 million during his time with the organization.
Houston Rockets 
Barkley's stint with the Houston Rockets in 1996 was his last opportunity to win a championship, and he teamed up with All-Star Hakeem Olajuwon and Clyde Drexler.
The season was tough for Barkley as he struggled to stay on the court, battling a plethora of injuries, including an ankle sprain and pelvis injury.
Barkley was the second on the team in scoring, averaging 19.2 points per game, but that was his lowest total since his rookie season, and he missed 29 NBA games.
The Rockets would lose in the Western Conference Finals to the Utah Jazz. 
Barkley would spend three years with the Rockets, all plagued by injuries, and ultimately was never able to win a championship, and his NBA career came to an end.
On the bright side, Barkley made a career-high 9 million in the 1999 season, which would be Barkley's last, sending him off to retirement with a pretty penny.
NBA Analyst
Barkley's charismatic personality made the transition to television very easy, and a few years after he retired, Barkley decided to become a sports analyst on Inside the NBA on TNT.
Barkley was an instant fan favorite and became notorious for his funny, controversial comments and outrageous bets, and was referred to by many as "Sir Charles"
Ernie Johnson, Kenny Smith, and Shaquille O'Neal accompanied Barkley on the show, and it quickly became a household name.
Inside the NBA has gained quite the fan base and has earned many critically acclaimed awards. As of May 2023, Inside the NBA has won fifteen Sports Emmy Awards.
Additionally, it has been named the best daily show, the best weekly show, and the best limited-run show.
As of 2016, the show also has a spot in the Broadcasting & Cable Hall of Fame.
As the success kept coming for TNT, the money kept coming in for Barkley. Barkley is currently making six million a year from the show and has not missed a beat.
For Barkley, analyzing the game and spending time with his closest friends, Ernie, Kenny, and Shaq, does not even seem like work.
He truly loves what he is doing, and luckily for TNT, he's pretty good at it.
Business Ventures
Barkley has also made a lot of money outside of just his NBA and TNT salary.
He has had multiple endorsements with major brands such as Coca-Cola, McDonald's, Nike, Right Guard, and T-Mobile.
In 2017, Barkley appeared in a TNT show called The Race Card, which talked about how the country was still divided tremendously in terms of race and class. Barkley has never been afraid to talk politics and has made statements of displeasure toward former president Donald Trump
Barkley is also executive producing his first scripted series, The line, based on a vast gambling scandal in 1951.
Charles Barkley Net Worth 2023
As of May 2023, Charles Barkley's net worth is $50 million. 
Barkley is one of the best basketball players ever to lace them up. He was undersized for his position but could still dominate the game with tenacious rebounding and shot-making.
He was such a unique and outspoken individual who was never afraid to speak his mind, which allowed him to thrive on the court and the big screen.
Frequently Asked Questions (FAQs)
Why was Charles Barkley so good?
Charles Barkley was known for rebounding and low-post dominance, but perhaps the only thing bigger than his game was his personality.
Did Charles Barkley ever score 50 points in a game?
Charles Barkley posted his most points in a game versus the Hawks on February 9, 1988, with 47 points.
What player is most like Charles Barkley?
Paul Pierce: Charles Barkley. While this comparison may seem puzzling at first, it's really not.
Key Takeaways
Now that you know what the net worth of Charles Barkley is and how he built it, let's take a look at some of the most important lessons we can take from his journey.
Be Yourself
Barkley's personality is the main reason he could find success after his playing career. Barkley never changed himself, even despite some criticism at times from the media.
It's imperative to stay true to yourself and always remain authentic because that makes you unique. You'll then be able to offer your talents to the world.
Challenge the Norm
Barkley was always on the shorter side for his position growing up and getting into the league. He did not change his game and continued to play as a traditional big man.
It resulted in him being one of the best reboundings and scoring forwards ever to play the game, and him being inducted into the Naismith memorial basketball hall of fame.
There's always a first to everything, and it starts with someone taking a risk to challenge the normal. Don't be afraid to go against the grain.