| | |
| --- | --- |
| Full Name | Marshall Bruce Mathers III |
| Net Worth (estimated) | $230 million |
| Date of Birth | October 17, 1972 |
| Place of Birth | St. Joseph, Missouri, USA |
| Height | 5'8″ (173 cm) |
| Occupation | Rapper, Songwriter, Record Producer, Actor |
| Genres | Hip Hop, Rap |
| Labels | Shady Records, Aftermath Entertainment, Interscope Records |
| Years Active | 1992-Present |
| Notable Albums | The Slim Shady LP (1999), The Marshall Mathers LP (2000), The Eminem Show (2002) |
Have you ever wondered what the net worth of Eminem is? Marshall Bruce Mathers III, professionally known as Eminem, is an American rapper, songwriter, and record producer.
Thanks to his unique, fast-paced rap style, he is widely regarded as one of the best rappers of all time.
As of May 2023, Eminem has a net worth of $230 million.
In this post, we'll show you everything "Slim Shady" did to amass his massive net worth.
Tip: If you're in a rush and searching for something particular, use the jump links below to find what you need quickly!
Table of Contents
Early Life
Marshall Bruce Mathers III was born in St. Joseph, Missouri on October 17, 1972. He had an interesting childhood. His mother nearly passed away during a grueling, 73-hour labor with him.
Childhood Struggles
During his childhood, Eminem's parents were in a band together before separating. After their separation, Eminem and his mother spent much of their time shuttling between Michigan and Missouri.
The two rarely stayed in one house for more than a year at a time. Eminem's childhood found him living in multiple places in Missouri, including St. Joseph, Kansas City, and Savannah.
Eminem spent much of his youth in lower-middle-class, primarily Black Detroit neighborhoods. Children on his block frequently bullied him, as he was one of three white households in the area.
Interestingly, his love for storytelling is what eventually led him to discover hip-hop. In fact, before diving into the world of music, Eminem aspired to be a comic book artist.
Eminem Gets His Nickname
The nickname Eminem actually started as "M&M." The young artist based the nickname on his initials, "MM" (Marshall Mathers).
Eminem Drops Out
Eventually, Eminem decided to drop out of high school at 17. He would work various jobs while working on his rap skills and entering freestyle rap battles around Detroit.
Music Career
Eminem first discovered his interest in music as a teenager. He and a buddy would frequently sneak into a nearby high school lunchroom to compete in rap battles.
He admitted to going as far as studying the dictionary to improve his rap skills.
Joining Bassmint Productions
After a while, Eminem gained respect from the Detroit hip-hop scene. He would go on to join Bassmint Productions (later renamed Soul Intent).
During this time, Eminem hustled as hard as anyone. While working part-time as a cook/dishwasher, he recorded music with multiple production companies. He was extremely focused on getting more involved in the rap scene.
Thanks to his grit, he eventually released his debut album Infinite through the Web Entertainment record label.
Eminem Meets Dr. Dre
In March 1998, Eminem's landlord evicted him. He took this opportunity to travel to Los Angeles to continue his rap career and mainly participate in the Rap Olympics.
He put on a show, placing second and drawing the attention of an Interscope record label staff member.
That staff member then passed his album, "The Slim Shady EP," on to Jimmy Lovine, CEO of Interscope Records.
Jimmy Lovine showed the album to one of NWA's biggest stars, and record producer Dr. Dre. Dre had just started his company, Aftermath Records, and was looking for new talent.
He immediately fell in love with Eminem's style and insisted his team find him. Dre's team quickly found him and signed him to a contract with Aftermath Entertainment.
The Slim Shady EP
Following his stellar performance at the 1997 Los Angeles Rap Olympics, he re-recorded his album, The Slim Shady EP, with Dr. Dre as his executive producer.
"Slim Shady" is Eminem's fictional hip-hop alter ego: a vulgar character full of anger and cynicism.
The album was Eminem's major debut album and was an instant classic, exploding the net worth of Eminem at the time. It went certified 4X Platinum in the United States, and Eminem won a Grammy for Best Rap Album.
Establishing Himself as a Star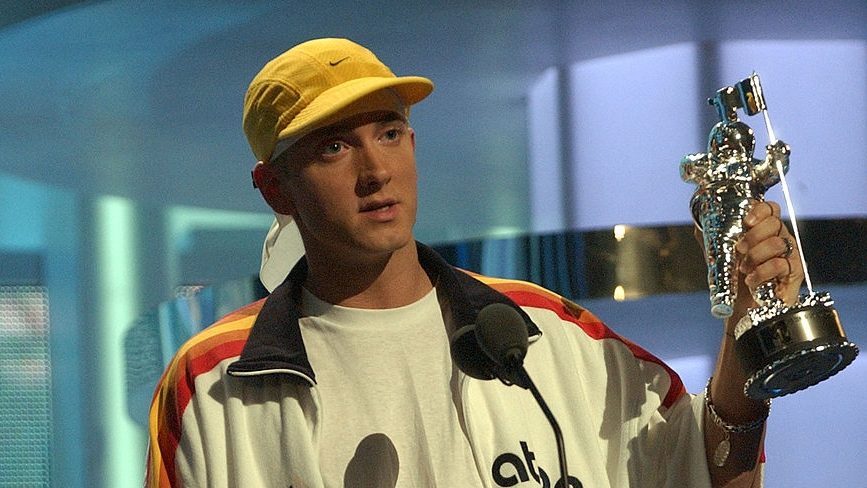 Eminem went on to have sustained success in the music industry. In May 2000, Eminem released "The Marshall Mathers LP." The album sold faster than any other album in hip-hop history.
It also sold over 21 million copies. Even "The Eminem Show," his next album, sold over 27 million copies. By this point, he took the rap game by storm, and there was no turning back.
Music Awards and Nominations
| Award/Nomination | Year |
| --- | --- |
| Academy Award for Best Original Song ("Lose Yourself") | 2003 |
| Grammy Award for Best Rap Album (The Marshall Mathers LP) | 2000 |
| Grammy Award for Best Rap Solo Performance ("My Name Is") | 2000 |
| Grammy Award for Best Rap Album (The Eminem Show) | 2003 |
| BET Hip Hop Award for Best Collaboration ("Forever") | 2010 |
| MTV Video Music Award for Best Video ("Lose Yourself") | 2003 |
| Billboard Music Award for Top Rap Artist | 2000, 2002, 2009 |
| American Music Award for Favorite Rap/Hip-Hop Artist | 2002 |
| BET Hip Hop Award for Best Live Performer | 2010 |
| People's Choice Award for Favorite Hip-Hop Artist | 2011 |
Note: This is not an exhaustive list of all of Eminem's awards and nominations, but rather a selection of his most famous.
8 Mile
Following his musical success as a hip-hop artist, Eminem jumped into a new industry – film. He would proceed to star in a fictional biopic of his life, 8 Mile.
The film revolved around a young rapper from Detroit looking for any way to make it out. Sound familiar?
Anyway, the film was a general success amongst critics but a cult classic. The film even won an Academy Award thanks to Eminem's original song, "Lose Yourself."
His witty and likable performance in 8 Mile also led to even more widespread recognition for the young rapper and opened the door for even more film opportunities.
Personal Life
When he was fifteen years old, he met Kimberley Anne Scott, who had fled with her sister Dawn and was staying with his mother. The two would begin a relationship and in 1995 Hailie was born.
Eminem and Kim married in 1999, but their relationship was never blissful; they eventually divorced and got remarried several times.
Struggles With Addiction
Eminem is open about his past addiction to drugs like Ambien, Vicodin, Valium, and methadone. He became so dependent on them that he once had a fast-food binge that made him gain a lot of weight. Once more, he took too much methadone and collapsed in the restroom, requiring hospitalization
Marshall Mathers Foundation
Those days are well behind Eminem and he has founded the Marshall Mathers Foundation, a charity that aids children from underprivileged homes. The organization receives funding from the Norman Yatooma's charity.
Net Worth and Earnings Breakdown
| Source of Earnings | Estimated Earnings (in millions) |
| --- | --- |
| Music Sales | $150 million |
| Touring | $70 million |
| Merchandise | $30 million |
| Endorsements | $20 million |
| Record Production | $10 million |
Note: These figures are estimates and should not be taken as definitive. Eminem's actual earnings may be higher or lower.
One of the biggest contributors to Eminem's net worth is his music. He has sold over 150 million records worldwide, making him one of the best-selling music artists of all time.
His most successful album, "The Marshall Mathers LP," has sold over 20 million copies worldwide, and each of his subsequent albums has sold over 10 million copies.
Eminem's assets include several properties, including a massive mansion in Michigan and a condominium in Detroit. He is also known to have an extensive car collection, including high-end vehicles such as a Rolls-Royce, a Porsche, and a Lamborghini.
Eminem Net Worth 2023
As of May 2023, Eminem's net worth is $230 million. He amassed his sizable net worth through his wildly successful series of studio albums.
However, Eminem's net worth and recognition really took off after his performance in the cult classic "8 Mile."
The movie opened at No. 1 with $51,240,555 in its opening weekend, the then-second-highest opening for an R-rated movie in the U.S.
The film would go on to gross $116,750,901 domestically and $126,124,177 overseas for a total of $242,875,078 worldwide.
Recent Projects
Eminem's most recent project is his latest studio album, "Music To Be Murdered By."
In the United States, the album opened at number one on the Billboard 200 with 279,000 album-equivalent units, consisting of 117,000 traditional album sales, 217.6 million streams, and 8,000 track equivalent albums.
While he isn't as active in the music world as he used to be, Eminem's influence is still prevalent within the industry, and he is still one of the best-selling music artists.
He also has his own record label, Shady Records that represents artists such as Yelawolf, Westside Gunn, and Benny the Butcher.
Years ago, he released the single F*ck you Lucy, which was an open letter to who is then lover, and the song was a fan favorite.
Fast forward to the present day, and rap star Kendrick Lamar released an album, Mr. Morale and The Big Steppers.
A track from the project titled, We Don't Cry contains a similar style as F*ck you Lucy, showing Eminem is still impacting music as we know it today.
Frequently Asked Questions (FAQs)
What is Eminem's real name?
Marshall Bruce Mathers III is the real name of Eminem.
How did Eminem become famous?
Eminem became famous in the late 1990s after releasing his first album, The Slim Shady LP. The album was commercially successful and won the Grammy Award for Best Rap Album. With its success, Eminem earned recognition as one of rap's most talented lyricists and producers.
How many Grammy Awards has Eminem won?
Whilst his first album was nominated for two Grammy awards, Eminem has since gone on to win 13 Grammys and 22 nominations in total. He became the first artist ever to win Best Rap Album for three consecutive LPs with The Slim Shady LP, The Marshall Mathers LP and The Eminem Show.
What is Eminem's net worth?
Eminem's net worth is estimated to be around $230 million as of February 2023. His fortune was amassed through his successful series of studio albums as well as acting roles such as 8 Mile and a string of lucrative business ventures.
What is the significance of Eminem's alter ego "Slim Shady"?
Eminem's alter ego, 'Slim Shady' has been featured on many of his tracks, the character is most notably used to demonstrate the rapper's darker sides and emotions. Slim Shady allows Eminem to explore a multitude of themes such as violence, drug use and misogyny in his music.
Who are some of Eminem's biggest musical influences?
Eminem's musical style is heavily influenced by renowned rappers such as Dr. Dre and Tupac Shakur, the rapper has also stated that he draws inspiration from rock acts such as Led Zeppelin and The Beatles. He is especially known for combining rap with hard-rock elements.
What are some of Eminem's most popular songs?
While his debut album, The Slim Shady LP spawned the hit singles My Name Is and Guilty Conscience; some of Eminem's most popular songs include Stan, Lose Yourself and Without Me.
What was Eminem's first album?
Eminem released an underground album back in 1995, The Slim Shady LP. It was his first official studio album. It was widely successful and has since gone on to be certified quadruple platinum in the US and triple platinum in the UK. The singles My Name Is and Guilty Conscience were some of the hits from this album.
What is the subject matter of most of Eminem's songs?
Eminem's songs usually revolve around personal and social issues such as poverty, racism, sexism and drug use. He often expresses his feelings of being an outcast due to growing up in a predominantly white neighborhood and his struggles with fame. His music also features his views on relationships, politics and religion.
How has Eminem's music been received by critics and audiences?
Eminem's work has been critically acclaimed and commercially successful. His albums often go straight to number one in both their native US and international markets. Audiences have generally responded positively to his music, with each album receiving scores higher than 80% on popular review sites such as Metacritic and Pitchfork.
Key Takeaway
With an estimated net worth of over $230 million, Eminem is one of the best-selling artists of all time. His story is an inspiring one, as it shows how perseverance, talent, and hard work can lead to incredible success, even against seemingly insurmountable odds.
Despite growing up in poverty and facing numerous challenges, including addiction, Eminem never gave up on his passion for music. He continued to hone his craft and eventually became one of the biggest names in the rap industry, earning numerous awards and accolades along the way.
Eminem's story serves as a testament to the power of determination and hard work. Despite facing obstacles and criticism, he remained true to his art and ultimately achieved incredible success.
He continues to be an inspiration to aspiring musicians and to anyone who has ever faced obstacles in the pursuit of their passions.
Disclaimer: The information regarding Eminem's net worth provided in this article is based on various estimates and should not be taken as definitive. The exact details of Eminem's financial information are not publicly available and are subject to change. The estimates presented in this article are intended for informational purposes only and should not be relied upon as financial advice.